Caledon benefits from its strategic location in the Greater Toronto Area (GTA) with easy access to airport, road and rail transportation networks and infrastructure to meet your business needs.
Transportation
Roads
With the Highway 410 extension into Caledon, businesses easily team with suppliers to serve customers in Canada's industrial heartland and the United States through an extensive and reliable network of municipal and regional roads (Highways 9, 10, and 50), that connect to major provincial highways (400, 401, 410, 407, 427 and the QEW).
Rails
Nearby CP and CN Railway intermodal terminals provide diversified domestic and overseas containerized service to continent-wide and international markets.
Air
The Greater Toronto Airports Authority operates Toronto Pearson International Airport (YYZ), a leading international gateway only 30 minutes south of Caledon. With direct access via Highway 427, Pearson is Canada's largest and busiest international airport with cargo service to North American and international destinations. Seventy-five airline partners operate out of two terminals, offering passengers direct service to 5 continents and over 108 destinations.
Caledon's centrally located regional airport, Brampton-Caledon Airport, is Canada's 16th busiest airport.
Commuting into Caledon
Smart Commute - Ride sharing and more...
COMING SOON (2023)
Smart Commute will be utilizing SmartTripsON it's more than just a carpool matching forum – it is a true travel options portal where users can instantly find information on various options to get from A to B.
Included in your search results will not only be carpool partner matches, but options for vanpools, bike, walking and transit buddy matching.
In addition to being able to explore your travel options, you will also be able to log trips and receive rewards. SmartTripsON also offers users the ability to find one-off single trip carpool matches or a regular carpool partner.
SmartTripsON's sophisticated matching will find passengers close to a driver's origin, destination and drive route, according to schedule and personal preferences. Passengers looking to join a carpool will see results based on proximity to origin, destination, travel route and personal preferences. Match results are shown in both tabular and in mapped form, based on two sorting algorithms: distance to you, and best matching your commute preferences. Users also have the ability to filter matches based on driving preference, male/female preference, distance from origin, route, or destination, or organization.
Payment transfer for carpool trips is facilitated directly through the system using suggested government mileage rates.
Caledon and Peel Transit
Transit is available in and around Caledon and Peel Region. Check out Brampton Transit, GO Transit and Metrolinx for rates and schedules. You can use Triplinx to plan your route.
Bolton
The Town of Caledon has retained Voyago to provide local service in the Bolton area. The local transit line in Bolton will include 27 bus stops along the route with service running during peak commute hours (Monday to Friday, 6 a.m. – 9:30 a.m. and 3 p.m. – 6:30 p.m.).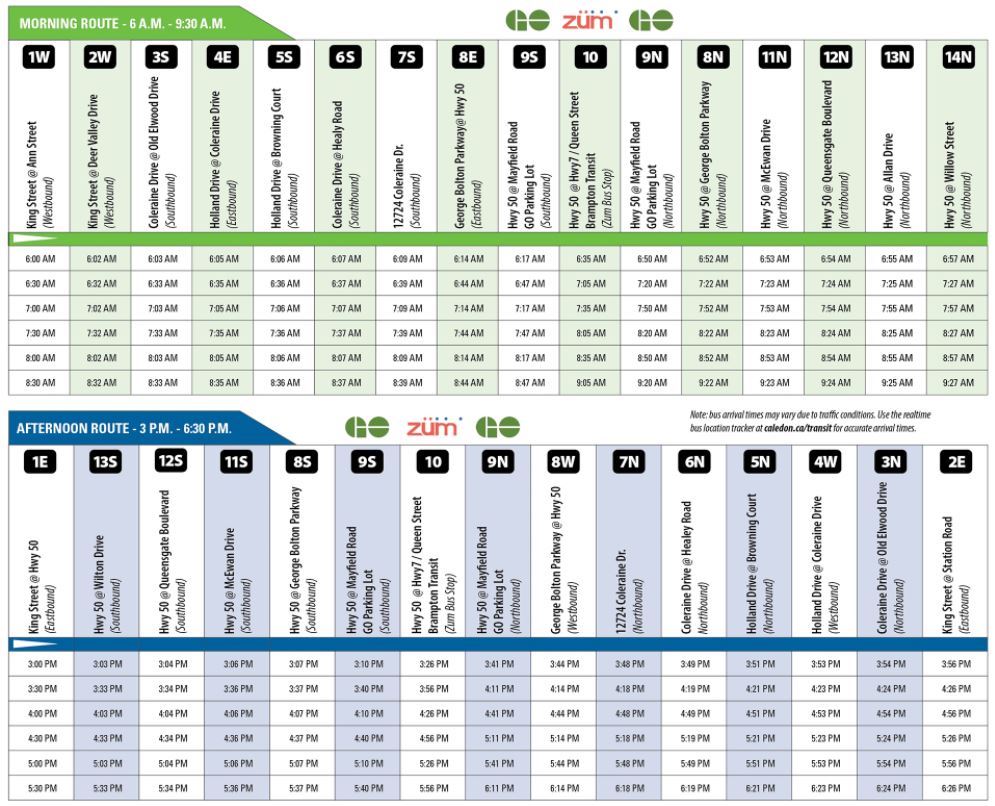 Bus Tracking
Realtime Bus Location Tracking now available - know when the bus arrives. Key features:
View the real-time map and schedule
Know when your next bus is arriving with real-time tracking
Users may view the bus status online or download the 'Buswhere Caledon - Bolton' app from the App Store or Google Play
Note: bus tracking is only available during operating times (Monday to Friday, 6 a.m. – 9:30 a.m. and 3 p.m. – 6:30 p.m.).
Bolton Line Fares
Persons with vision loss (CNIB Card required): Free
Preschool child (age 5 & under, with a fare-paying passenger): Free
Children (ages 6 – 12): $2.00
Youth (ages 13 – 19): $2.55
Adults and all other riders: $4.00
Senior (ages 65 or older): $1.00
What Else You Need to Know
Fares are cash only, and no transfers will be issued upon boarding, or accepted from other bus services
If transferring to another bus service from the Bolton Line, riders will be required to pay another fare for that service
Infrastructure
Water and sanitary services
Caledon is part of the Region of Peel. The Region provides water and sanitary services.
Please email or call the Region if you have questions about services | 905-584-2216 (option 4) or review their water and sanitary services development information online.
Water and Wastewater Project Mapping
Region of Peel water projects 2021 to 2041
Region of Peel wastewater projects 2021 to 2041
Hydro One
Hydro One is Caledon's electricity transmission and distribution service provider. From receiving Outage Alerts to Requesting a New Service, check out Hydro One's business services.
Broadband
Broadband is being expanded! Industrial areas are well serviced by internet providers, Rogers, Bell and Vianet.
The Town is currently working with Vianet to expand the fibre network throughout Caledon's communities and rural area.