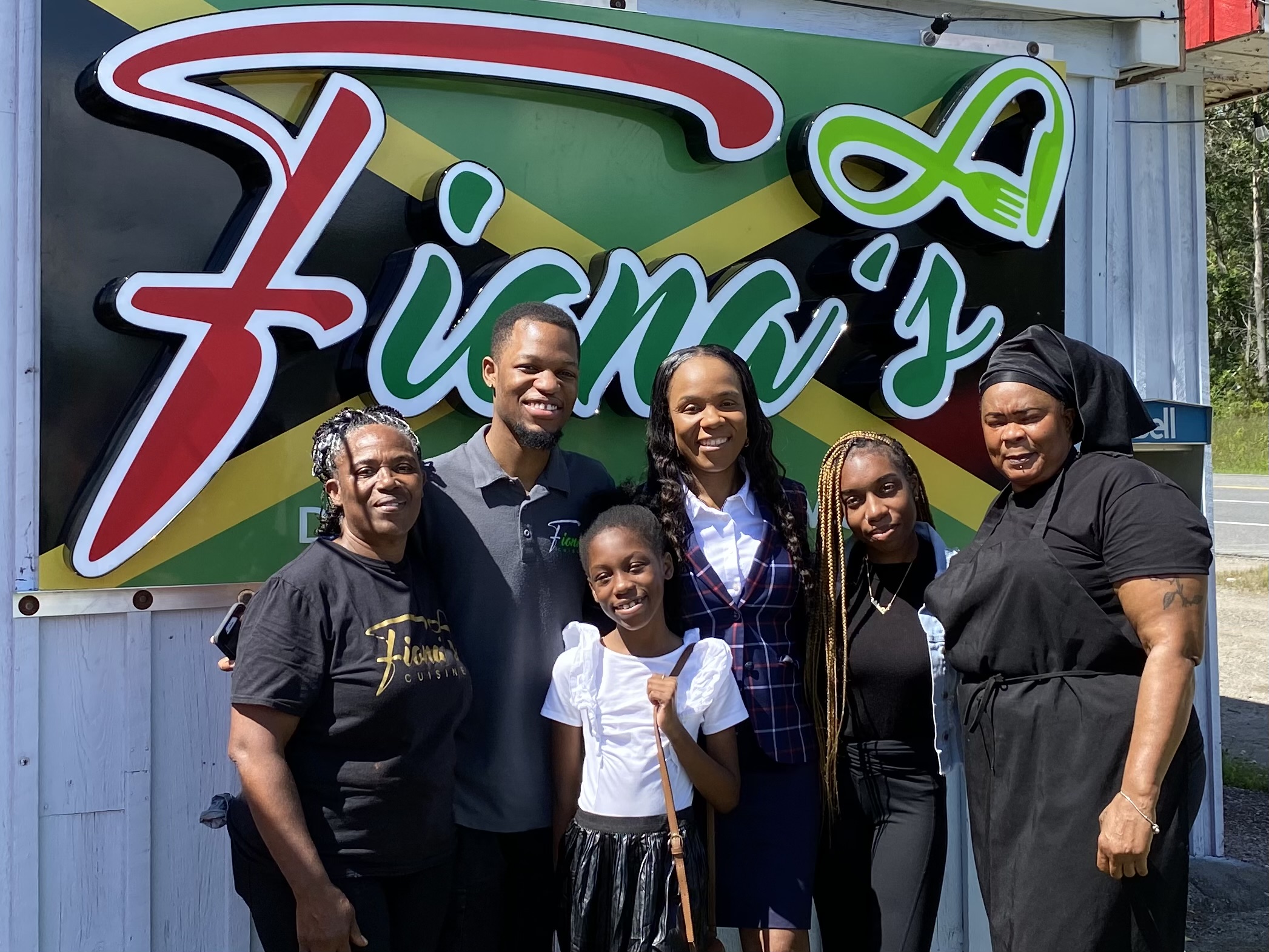 Combining a love of cooking, business smarts and family support, Fiona Riley has opened Fiona's Cuisine in a landmark location. We asked Fiona to tell us a little about the business, how she got here and what she loves about Caledon.
Tell us about your business.
Fiona's Cuisine is a fusion of West Indian and Canadian food.
I operate the business with my children and some immediate family members. We are in this together.
If you're looking for a taste of fresh food made to order come in and choose from a wide range of dishes including seafood, pastas, chicken wings, jerk chicken, jerk pork, snapper fish, burgers, vegetarian, and vegan meals to freshly made natural juices.
We are open Tuesday through Sunday and look forward to offering our customers "A taste you will never forget".
Tell us about you, why did you decide to open your own business?
I have worked for the Bank of Montreal for years and never had a desire to open a restaurant. I went back to school to do my diploma in legal studies, but then Covid changed the world.
I decided to venture out, take a chance, and combine my love of cooking and entertaining with operating a small business and started looking for a space for a restaurant. I was driving from my home in Brampton frequently through this area looking for a spot further north then came across this space. It is working out very well for us.
Opening the restaurant is one of the best things I could ever do. Cooking is very therapeutic for me but it's more than that, it is incredibly rewarding when a client eats our food and we see their positive reactions.
Why do you think this business will do well in Caledon?
I believe that this business will do well in Caledon because there is no other restaurant that offers the same types of food that Fiona's Cuisine offers. I believe it will eventually become a destination for people from outside of Caledon to come and dine.
I also think it's great to have new small businesses opening in the rural area to offer job opportunities for young people.
What is your favourite thing on the menu and why?
My favourite meal on the menu is the Loaded Pasta, it's made with shrimp, chicken, vegetables and three types of cheese in homemade sauce. But I would recommend the coleslaw as well. The feedback that we have received recently is that "the coleslaw is mind blowing". It is freshly made every day and has Chia seeds, raisins, apples, carrots and some added vegetables. It is out of this world and accompanies a number of our entrees.
What do you love about Caledon?
There's so much I love about Caledon, it reminds me of the rural area where I grew up in Delaware, United States. One of my favourite places to visit is Forks of the Credit – it's a beautiful area.
There are communities within the community, the people here support locals. When we opened residents from Inglewood brought me flowers and they welcomed us to the neighbourhood and now they are regulars. Everyone is so friendly and welcoming. We are so grateful for the support!
Fiona's Cuisine is located at 16560 Hurontario St, Caledon | https://www.fionascuisine.com