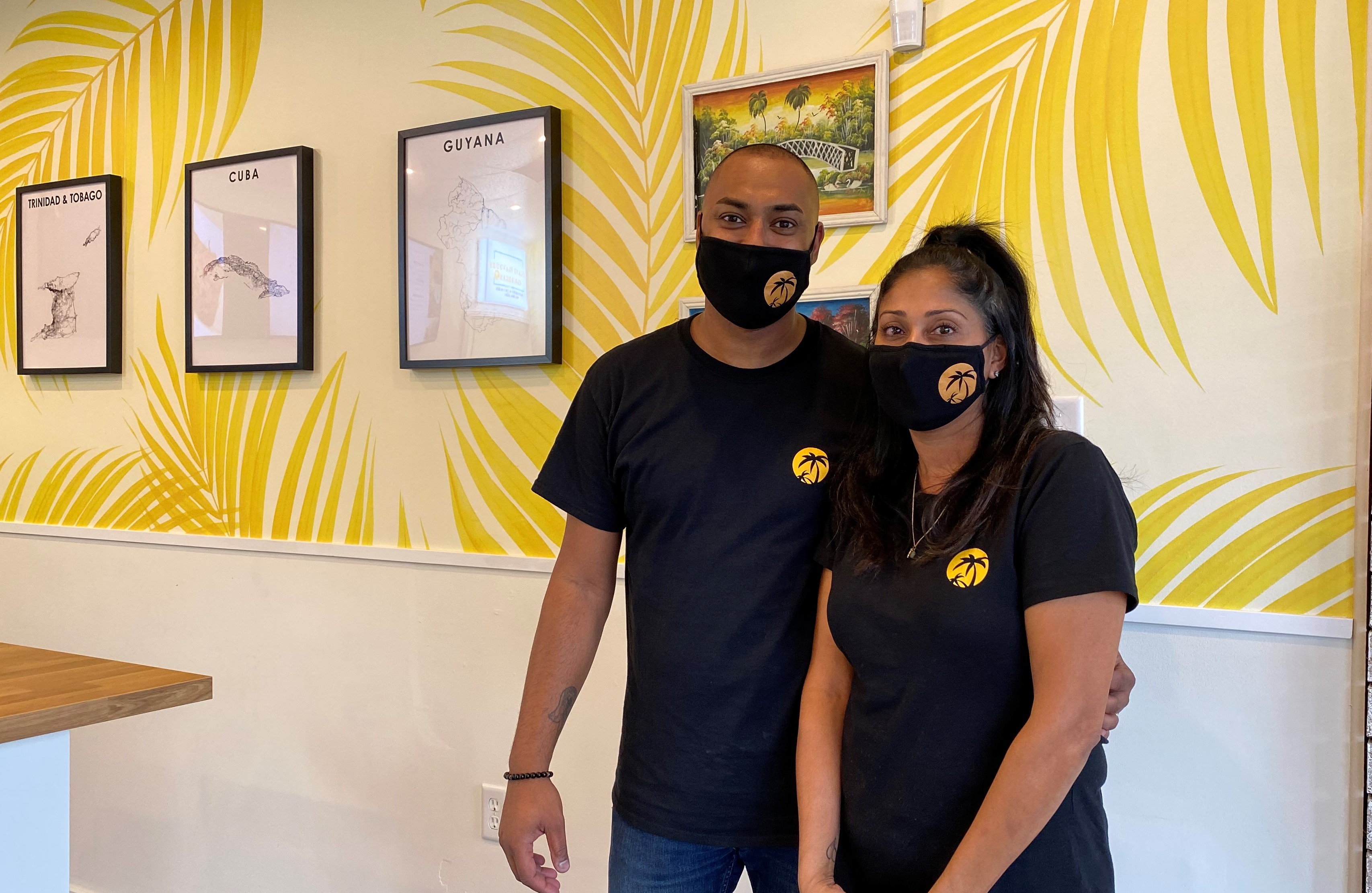 Island Flavours Caribbean expands the food choices in Caledon East with traditional homemade foods from all around the Caribbean. We asked owner Nazeema Shaheed Singh about business, community and taking the leap to become her own boss.
Tell us about your business.
Island Flavours Caribbean offers a taste from the Caribbean in Caledon. We offer traditional foods from all around the Caribbean, including Jamaica, Guyana and Trinidad.
Customer favourites include beef patties, jerk chicken, oxtail stew, curries and roti wraps. We also offer signature dishes like jerk chicken poutine and our Island Sandwich.
Tell us about you, why did you decide to open your own business?
I was a full-time executive managing live events and tradeshows for 17 years, I ran my catering business part time for the last 5 years. When the pandemic hit, those industries also took a hit.
I always had a passion for cooking. I loved the catering side of my career so much that when I saw the store front available I decided to take the leap and follow my dream of being a full time business owner and no better place then in Caledon, and in the community I have been part of for so many years, Caledon East.
The town is small but growing and the food options are great but limited and I wanted to add another food option to our community.
Why do you think this business will do well in Caledon?
Caledon is made up of many ethnicities, cultures and many foodies! One thing we all have in common is food! People like to eat, and I love to cook. Island Flavours brings something different to the community.
In Caledon East specifically, we were in need of additional food options. With the community expansion and growth and the upcoming housing developments there was no better time to introduce ourselves to the community.
Caledon is made up of many towns and communities and residents seem very eager to support each other, especially local small businesses.
What is your favourite thing on the menu and why?
My most favourite menu items are the jerk chicken, jerk chicken poutine, island sandwich and roti wraps.
The jerk chicken marinade is made in house, with our own blend of fresh and dried herbs and spices, the chicken marinades for minimum 24hrs to ensure all the flavours come through when slow cooked.
The jerk chicken poutine is a hit with kids and families, made with Canadian cheese curds and a rich brown gravy, definitely a must try!
All curries are made using techniques passed down over many generations, not too spicy, but super flavourful to suit most palettes.
The island sandwich is a jerk chicken breast, on a brioche bun, topped with our house made mango, pineapple salsa and house-made bbq sauce, served with kettle chips.
What do you love about Caledon?
My husband, our two children and I have been Caledon East residents for several years. We love this area. We have the best neighbours and feel so fortunate to live in an area with such amazing hiking trails, you can walk or bike for hours all year round and the setting is always different.
It's a wonderful community, small but so close to so many amenities.
Island Flavours Caribbean is located at 15980 Airport Road, Caledon East | @islandflavourscaribbean