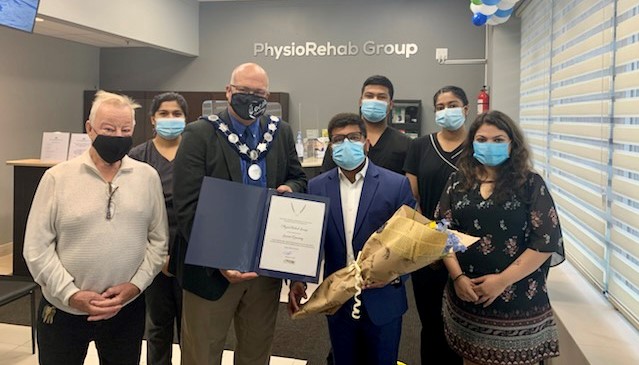 PhysioRehab Group opened recently in Bolton. We asked Siddharth (Sid) Bhatia to tell us about their business and why they chose to expand into Caledon.
Tell us about your business.
PhysioRehab Group is a GTA based Physiotherapy clinic owned and operated by Registered Physiotherapists in Ontario - Siddharth (Sid) Bhatia and Navdeep (Nav) Kaur. We provide a wide array of physiotherapy, massage therapy and other rehabilitation services, at our Bolton and Brampton location.
We also provide home physiotherapy and massage therapy care and are called Dial-A-Physio.
Our Vision is to extend our reach to deliver best physio and rehab care. Our mission is to take care of our patients in all phases of healing from initial diagnosis to final recovery. We provide comprehensive evaluation, Individualized treatment approach and Freedom of space for treatment in clinic or at comfort of their home; this makes us different from other Physiotherapy clinics.
Tell us about you, why did you decide to open your own business?
I'm a Registered Physiotherapist with more than 9 years of experience in the field. I've gained a lot of experience working in various medical settings including long term care nursing homes, retirement homes, private clinics and community care.
I've learned and performed numerous techniques of Physiotherapy such as Acupuncture, Kinesio Taping, Concussion Rehab, Exercise Prescription and Spinal Manipulations and have been fortunate to interact with all kinds of patients.
I understand that every patient is unique and needs to be treated using a customized method developed only for them.
Navdeep (Nav) is a Registered Physiotherapist in Ontario. She holds Bachelors as well as Masters in Physiotherapy with work experience in manual therapy, myofascial techniques, exercise application and sports injuries. She's been a Manager of the Outpatient Physiotherapy Services and Sports Injury Program in a Hospital for 3 years.
She has gained a variety of experience in Orthopedic conditions such as fractures, post-surgical tendon repairs, total joint replacements, as well as acute and chronic sports / workplace injuries.
She's also a certified Pelvic Physiotherapist and Acupuncturist. She emphasizes proper balance of musculature in the upper and lower bodies to correct and prevent further movement disorders. Navdeep is a member of College of Physiotherapists of Ontario and is in good standing.
Why do you think this business will do well in Bolton?
Bolton is growing quickly, and the population is becoming more diverse.
Physiotherapy workforce is the fifth largest regulated health profession in Canada. Physiotherapists are primary care practitioners offering a hands-on approach to help clients restore, maximize, and maintain movement.
Considering the growth that is happening and will happen in the future and the current number of physiotherapy clinics to serve the population we think there is a need for our services.
What is the best business advice you have ever received?
Well the best and most valuable advice that we got was to provide best service and patient care; business will flourish on its own.
PhysioRehab Group is located at 12612 Hwy 50, Unit 12, Bolton | https://physiorehabgroup.com