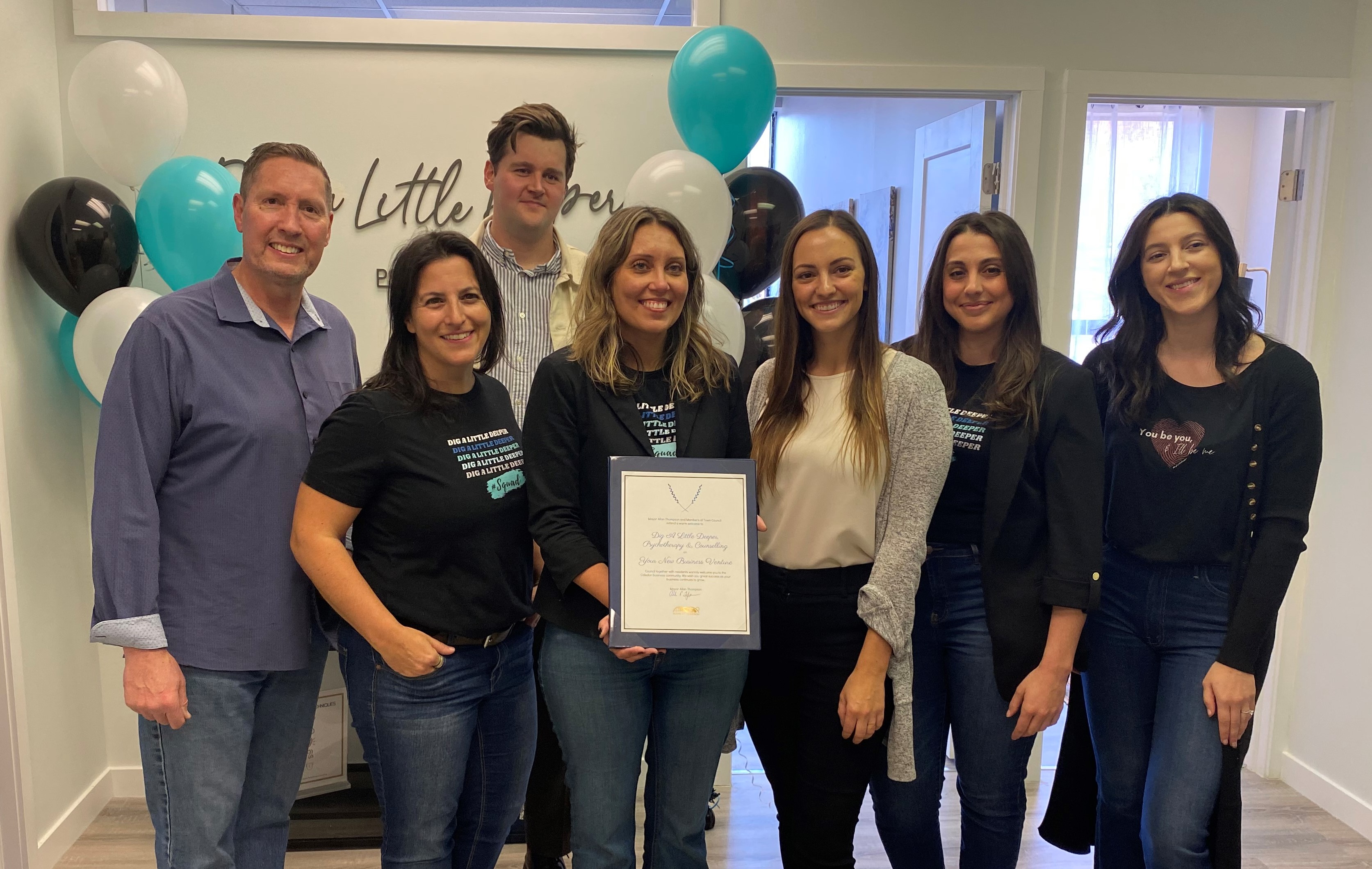 Dig A Little Deeper, Psychotherapy and Counselling offers a wide range of mental health treatments, accessible education and seamless access to services. We asked founder and psychotherapist Christina Crowe to tell us a little about the business.
Tell us about your business.
Dig A Little Deeper, Psychotherapy and Counselling (DALD) was founded by myself, in Caledon in 2015. We are a self-managed team of 17 independent, modern psychotherapists and counsellors (plus two students I supervise) passionate about supporting the diverse mental health needs of our community.
We offer a wide range of mental health treatments, accessible education and seamless access to services. We partner with local community leaders and programs to support the diverse needs of our community, like Caledon Community Services and The Exchange (We have been offering absolutely free and unlimited therapy to clients referred to us from The Exchange since 2020).
Our 'headquarters' have always been in Bolton, and we most recently expanded to a larger space in downtown at 6 Queen St N. to accommodate our growing team. We have three locations for in-person services in Ontario and also offer virtual service across Ontario and Prince Edward Island. ​
We know wait times for mental health care in Ontario are an ongoing challenge. We have recently launched an Integrated Medical Services clinic, led by an independent psychiatric Nurse Practitioner. We aim to facilitate seamless and faster access to integrated medical care, to access true multi-modal, evidenced-based care. Our NP offers both in-person (Bolton) and virtual assessment, diagnostic and medical treatment to our community.
Tell us about you, why did you decide to open your own business?
I spent the first 20 years of my working life in the pharmaceutical/biotech industry and have always been happiest when I'm helping. I went back to graduate school to complete my Master's degree to become a psychotherapist from a sheer love of human psychology and helping people. For me, there is nothing better than witnessing and helping facilitate human healing and growth.
The business has grown from just myself into the network of incredibly talented associates I'm honoured to work alongside, steadily over the last seven years in Bolton. I'm very grateful for my previous corporate experiences, which have taught me about the kind of workplace culture I want to have a hand in influencing. I've always had an entrepreneurial spirit, and that allowed me to be flexible and creative in intentionally creating a conscious workplace that encourages everyone to bring their whole selves to their time with us.
Why did you decide to locate in Bolton?
My family moved to Caledon in 2012. We love that we know our neighbours, the parent engagement of the small school community we had when our kids were in elementary school and the access to all the green space and slower living we experience here. Headquartering the business in Bolton just made sense. I also like being 20 steps from both a warm apple fritter and a chicken curry roti - it's basically my stomachs dream location.
What are your future plans?
In mental health, there is an ever-growing need for effective and accessible services, and our government officials do not seem to agree on how best to meet that need. It leaves those of us forced to work outside of the public system, to innovate and figure out how to do what we need to do to run our business sustainably, in the context of an expensive career maintain in an ethical manner.
While it can be a strange context to navigate, I am committed to continuously offering the highest quality, most evidenced-based treatments, across a wide range of fees, so the greatest number of people in our communities can get the help they need, when they need it.
What is the best bit of wisdom you have learned along the way?
There are always options. Especially when you feel backed into a corner. (And especially if you haven't found the right therapist yet!). We are an 'agile' minded group, and applying agile principles to our individual, family and parenting lives are great ways to iterate and leverage the inner scientist or entrepreneur within each of us as we navigate life.
Dig a Little Deeper Psychotherapy and Counselling is located at 6 Queen St N. Suite 203, Bolton | https://digalittledeeper.ca/index.html